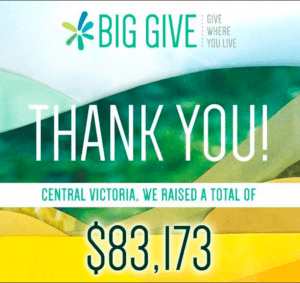 We recently contributed to a number of worthy causes as part of the Big Give – a day for fundraising in Central Victoria for local community groups, sports clubs and not-for profits.
Our donations helped Bike Bendigo's plan to join the Open Street's campaign, to build gardens beds at the Bendigo Sustainability Group's office and to replace an emergency support vehicle for the Golden Square CFA.
Bike Bendigo
Big Give fundraising money has contributed to Bendigo's first Open Streets event held on Saturday 29 October. Open Streets initiatives temporarily close streets to automobile traffic, so that people may use them for walking, bicycling, dancing, playing, and socialising.
Bendigo Sustainability Group
The Award winning group fundraised over $1000 for their new community garden – a fantastic result.
Golden Square Fire Brigade
Over $2,000 was raised for the new Emergency Support replacement vehicle. The CFA volunteers hope to replace a 23 year old support vehicle which provides emergency and specialist capabilities throughout Central Victoria including LPG flare offs, rehabilitation and health monitoring. It's a great start to the fundraising efforts of a dedicated crew.
More about the Big Give, Central Victoria's Community Giving Day here: chuffed.org/biggive